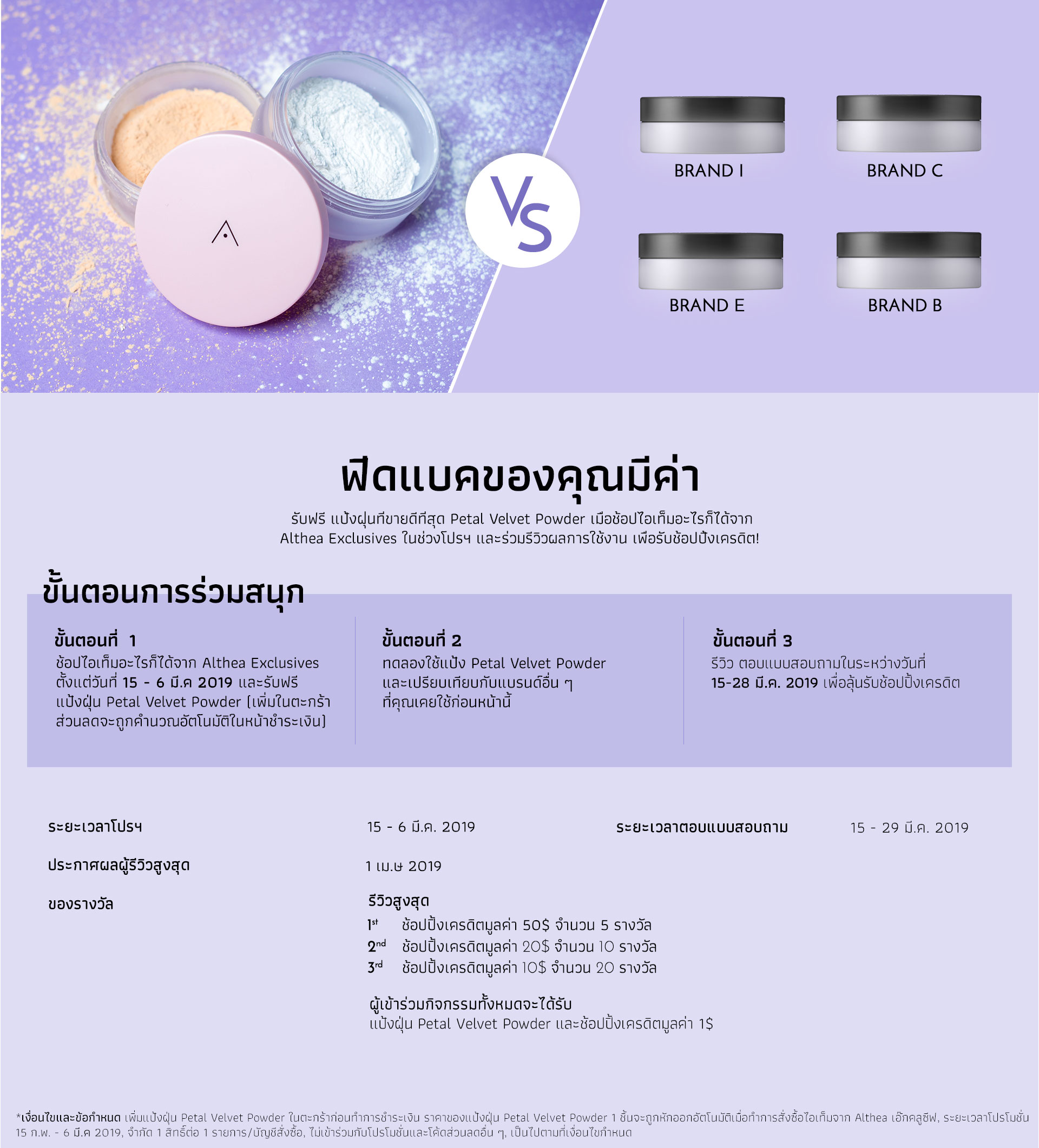 ที่สุดของแพคเกจจิ้ง K-beauty ออกแบบและผลิตจากประเทศเกาหลี
Simply perfect.
พิเศษเฉพาะที่ Althea.kr

ออกแบบและผลิตจากประเทศเกาหลี ด้วยรัก

ด้วยความมุ่งมั่นว่า คุณคู่ควรที่จะได้รับผลิตภัณฑ์ที่คุณภาพดีที่สุด ในราคาที่ใครก็เป็นเจ้าของได้

มั่นใจด้วยนโยบายคืนเงินโดยไม่มีเงื่อนไขใน 30 วัน


Click here to learn more about The Althea Brand.
งื่อนไขและข้อกำหนด
Althea Sticker : เ *จำนวนจำกัดเท่านั้น, จำกัด 1 สติ๊กเกอร์ต่อ 1 รายการสั่งซื้อ/บัญชี, จนกว่าจะหมดสต็อค, ไม่เข้าร่วมกับโปรโมชั่นและส่วนลดอื่น ๆ เป็นไปตามเงื่อนไขที่ Althea กำหนด
Your voice matter : *Add the Petal Velvet Powder in the cart during checkout. Offer valid from 15th Feb 2019 – 6 Mar 2019. Limit one time per order/ customer. One (1) petal velvet powder will be automatically discounted at checkout when purchasing one or more Althea Exclusives product. Offer valid until out of stock. Not valid with any other promotions and discounts. Althea general T&C applies.